View the November 2015_Newsletter for the latest info at UCC!!
We were just notified of a water main break here on the Health Sciences Campus. Our center has been directly affected; which means no running water for food prep, hand washing, or toileting. We are writing to inform you that we are required to CLOSE the center because of this matter. Per our state licensing rules we must have toilets that flush and running water provided to children for meals and hand washing. THE WATER WILL BE TURNED OFF AT 9:00 AM. ALL CHILDREN MUST BE PICKED UP BETWEEN 9:30-10:00. Your child's teacher should be calling you soon; if they have not done so already. We are extremely sorry for this inconvenience, but please know it is for the health and safety of your children. Feel free to contact us with any questions or concerns, but please know that the phone lines may be busy due to this situation.
View the July 2015 Newsletter for the latest info at UCC!!
View the May 2015_Newsletter for the latest info at UCC!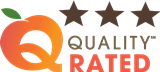 University Childcare Center has been honored with a "3 Star" rating in the Quality Rated childcare initiative set forth by The Department of Early Care and Learning.  Three stars is the highest designation a center can receive.  The process looks at a vast array of criteria from as broad as the level of education the staff have, to as particular as how many stuffed animals are in each classroom.  We are very proud to have received this distinction and will continue to work hard to maintain it!