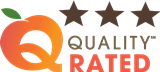 University Childcare Center has been honored with a "3 Star" rating in the Quality Rated childcare initiative set forth by The Department of Early Care and Learning.  Three stars is the highest designation a center can receive.  The process looks at a vast array of criteria from as broad as the level of education the staff have, to as particular as how many stuffed animals are in each classroom.  We are very proud to have received this distinction and will continue to work hard to maintain it!
Below are two children's health resources:
http://www.rntobsn.org/resources/school-nurses-guide-to-kids-health-and-safety/ and
http://www.rntobsn.org/wp-content/uploads/2015/01/RNtoBSN_SchoolNursesGuidetoKidsHealthandSafety_VisualCompanionGuide.pdf
UCC featured in UGA's online newspaper Columns!
Childcare center reaches major milestone before first anniversary!
Childcare center two information sessions